Welcome to German Roasters' official website. We offer some of the world's best German roasted nuts; all made fresh and hot to your local market or special event. See our calendar section to find when we will be in your area.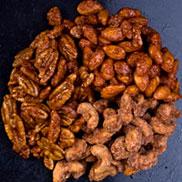 German roasted pecans, cashews, and almonds all mouth watering and irresistible. Also, now offering sugarless mixed nuts in sea salt.
Look for our special holiday gift tins, sure to enthuse the nut lover on your holiday list.